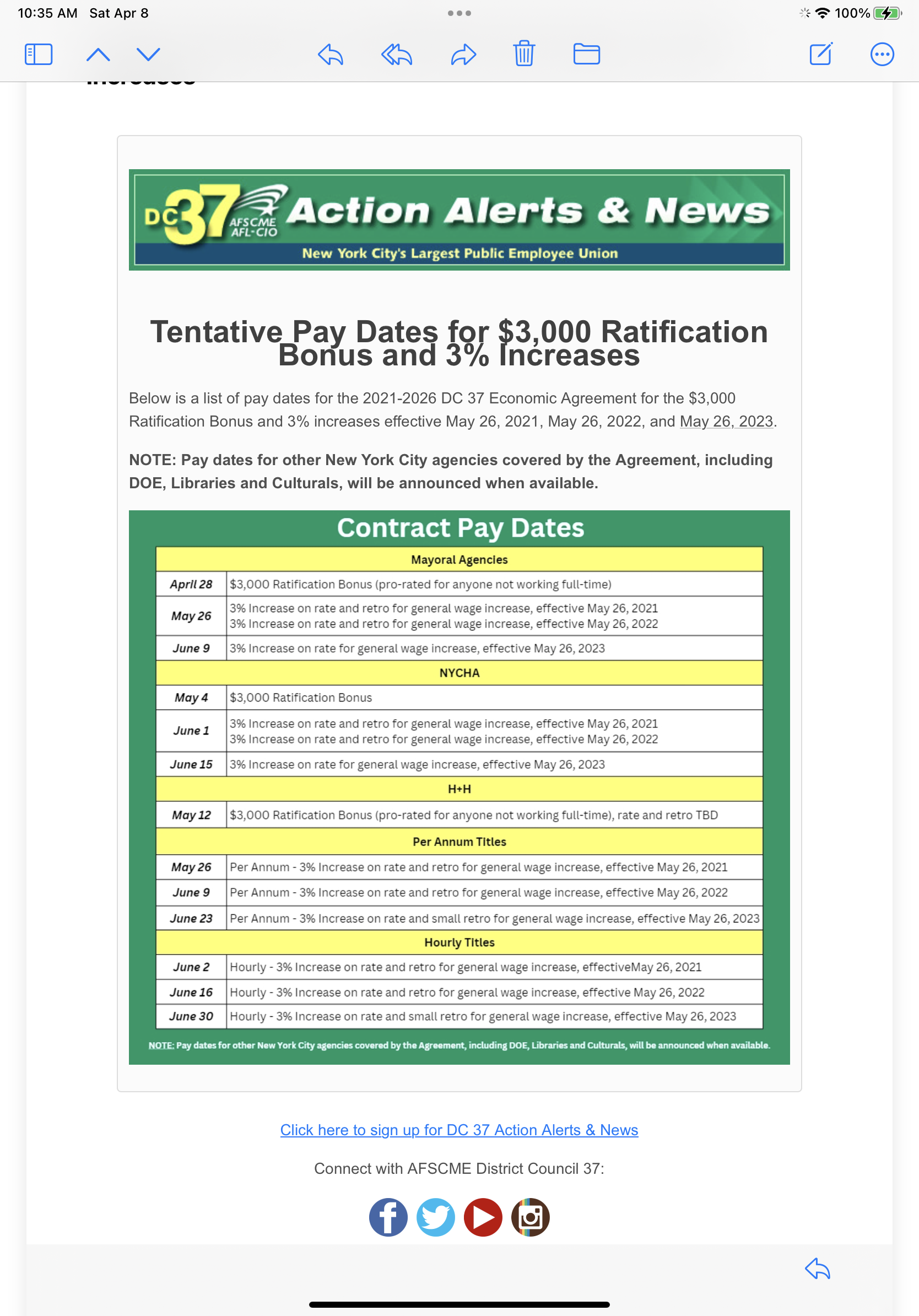 DC 37 CONTRACT UPDATE and NEWS YOU CAN USE in MARCH
CONTRACT UPDATE
Last night, your DC 37 Delegate Assembly voted overwhelmingly to recommend our tentative contract agreement with the City of New York. The decision is now in your hands.
Contract highlights:
The contract term is five years, five months and 12 days
$3,000 bonus upon ratification
Premium-free healthcare benefits for you and your dependents
Members covered by the agreement will receive a minimum of $18 per hour
16.21% compounded pay increase, including retroactive pay from the first date of the contract
City contributions to a DC 37-run Child Care Trust Fund
Flexible Work Committee to pilot telecommuting, flex/compressed schedules, and enhanced transit benefits
Pandemic Response Joint Committee
An additional $50 per member contribution from the City to our Health & Welfare Fund to help address the rising costs of prescription drugs and other supplemental benefits
Important upcoming dates:
March 10 – Member ratification period begins, ballot packages are mailed out by AAA to active members covered by the agreement
March 17 – All eligible members in good standing receive ballot package in the mail
March 31 – Ballots must be received by AAA from members no later than 9 a.m.
This historic collective bargaining agreement is subject to ratification by DC 37 members in good standing who work in NYC's mayoral agencies, Health+Hospitals, the Department of Education, NYCHA, three city library systems, cultural institutions and workers at the offices of the Borough Presidents, District Attorneys and the City Comptroller.
The NYC Department of Consumer and Worker Protection (DCWP) is excited to coordinate the City's annual Tax Season Initiative. New Yorkers who earned $80,000 or less in 2022 can use NYC Free Tax Prep to file with the help of IRS-certified volunteer preparers. For information about free Tax Prep services and eligibility for tax credits, visit nyc.gov/taxprep or call 311.
TENTATIVE AGREEMENT

2021-2026_dc_37_tentative_economic_agreement_settlement_summary_2.24.23_2.pdf2021-2026_dc_37_tentative_economic_agreement_settlement_summary_2.24.23_2.pdf2021-2026_dc_37_tentative_economic_agreement_settlement_summary_2.24.23_2.pdf2021-2026_dc_37_tentative_economic_agreement_settlement_summary_2.24.23_2.pdf2021-2026_dc_37_tentative_economic_agreement_settlement_summary_2.24.23_2.pdf2021-2026_dc_37_tentative_economic_agreement_settlement_summary_2.24.23_2.pdf2021-2026_dc_37_tentative_economic_agreement_settlement_summary_2.24.23_2.pdf2021-2026_dc_37_tentative_economic_agreement_settlement_summary_2.24.23_2.pdf2021-2026_dc_37_tentative_economic_agreement_settlement_summary_2.24.23_2.pdf